Need Hard Cider To Go Or For A Special Event?
Whether you are going fishing, to a BBQ, or you need some hard cider for your wedding, Lockhorn Hard Cider has you covered.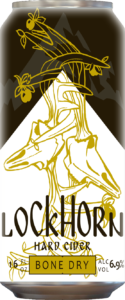 Growlers
We sell 64 ounce growlers or bring in your own to be filled.
Cider In The Can
Currently we sell Bone Dry Apple, Semi-Sweet Apple, Ginger, Raspberry, Hops, andRutty Englishman cider in 16 ounce cans.
Kegs & Pony Kegs
We sell all of our current flavors that are on tap by the keg or pony keg. A keg holds 124 pints, and a pony keg holds 62 pints. To reserve a keg you can either come into the Cider House, call, or click here. Please reserve kegs at least 24 hours ahead of when you would like to pick them up.