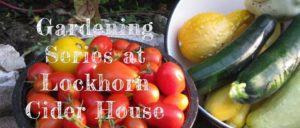 Broken Ground is partnering with Lockhorn Cider House to offer a series for the beginner gardener, a class giving you the basics to get a garden started. Expect to walk away from this series with the knowledge to make planting in the spring simple, fun, and easy!
Classes can be taken separately or as a series.
Cost is $30 for one class, $50 for two and $65 for all three. Paid classes include a cider. Please register in advance at the Cider House or click here.