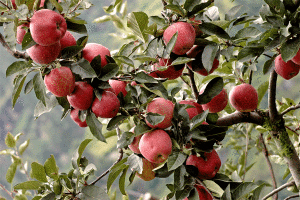 All of our ciders are gluten free, and have no added sugar or sulfites. Most of our ciders run completely dry, meaning that they ferment completely, leaving no unfermented sugars. They preserve themselves naturally and we do not need to add sulfites or pasteurize like most other ciders that you'll find on the shelf.
Similar to  wine, our cider ages with time, improving upon delicate and subtle flavors and aromas.
At 6.9 percent alcohol, the first sip of Lockhorn cider has a bite, but the subtle, complex flavors resonate on the tongue, rather like wine.
---
BONE DRY APPLE
Our Bone Dry Apple is our base cider, from which our other ciders are blended from. It is slightly tart & fruit forward with a distinct apple Flavor.
---
SEMI-SWEET APPLE
Our Bone Dry Apple Cider with a touch of sweetness.
---
GINGER
Our ginger cider is produced by blending our 'Dry Apple' cider with organic ginger juice and has a hint of spice.
---
HOPS
The 'Hops Cider' is dry hopped at cold temperatures with Cascade hops. Because the hops are added at a low temperature, the 'Hops Cider' retains a floral & citrus flavor without the bitterness associated with hoppy beers.
---
BOURBON RESERVE
Our Bourbon Reserve cider is oak bourbon barrel conditioned, and served still. It contains a  strong bourbon nose, with hints of butter, vanilla, & caramel.
---
HABANERO
Our Dry Apple cider with a kick!
---
RASPBERRY
Our Raspberry Cider has been a favorite among many since we first tapped it. We run the Raspberry Semi-Sweet, and it has a distinctive raspberry flavor and nose without being overwhelming.
---
THE RUTTY ENGLISHMAN
The Rutty Englishman is semi-sweet with a smooth and rich taste that has been a crowd favorite. Made from a variety of traditional cider apples.
---
Hot spiced cider
A hot blend of our ciders and spices.
---
---
Current Rotators
---
Passion Fruit
A touch of the tropics to brighten up the winter months!
---